Manufacturer:
Category:
Catch Basins
Part Name:
Polymer Concrete Catch Basins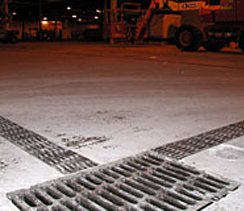 Series 600 multi-part polymer concrete catch basins are used with KlassikDrain, PowerDrain (S100K) and ChemDrain. The Type 610 top is used with either a short or deep base. Risers can be inserted between top and base if greater depth is required. A filter bag is available to fit Series 600 catch basins.

PDF Specs


Features
Compressive strength: 14,000 psi
Flexural strength: 4,000 psi
Water absorption 0.07%
Frost proof
Salt proof
Dilute acid and alkali resistant

Call 800-277-5015 to place your order for Polymer Concrete Catch Basins!