Manufacturer:
Category:
Residential Trench Drains
Part Name:
Drainline 100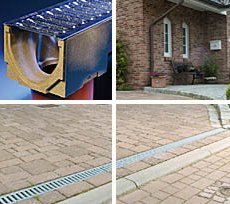 DrainLine 100 is a durable polymer concrete trench drain system for use around residential, office, and other light duty areas.

Polymer concrete is a versatile composite material produced by mixing mineral aggregate with a resin binding agent. Polymer concrete outperforms HDPE in its compressive strength, ability to withstand freeze-thaw cycles and adverse weather conditions, ensuring a longer service life.

The system offers a number of outlet options with bottom knockouts, choice of outlet caps and in-line catch basin connections to suit 3" & 4" Sewer & Drain and 4" Schedule 40 pipe.

Typical Applications
Driveways
Patios
Walkways
Cart paths
PDF Specs
Features
Polymer concrete body with galvanized steel grates
Concrete keys to hold securely in the ground
Grates lock to side wall - no locking bars to impede flow or trap debris
Outlet via bottom outlet, end cap or catch basin

Call 800-277-5015 to place your order for Drainline 100!