Manufacturer:
Category:
Commercial Slot Drains
Part Name:
FacadeSlot A15KN 2"-4"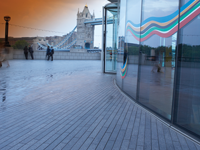 A discreet surface drainage system, that can be installed directly against a building, wall or other external landscape feature, to provide effective drainage of surface liquids from vertical surfaces, door thresholds and the adjacent pavement area. FacadeSlot channels can be designed to follow the building perimeter, whether straight or radius.

The system can accomodate rainwater downpipes; positioned over a simple rainwater inlet box, which can eliminate the need for a separate drainage network for the roof area, achieving a more efficient drainage design.

FacadeSlot in manufactured from pre-galvanized sheet steel, but is also available in stainless steel (various grades) if required.

FacadeSlot fully complies with ADA regulations.

Typical Applications
Shopping Malls
High Security Areas
Educational Institutions
Pedestrian & Landscape Areas
Building Exterior (Commercial, Educational, Healthcare, Retail, Terminals & Other)
PDF Specs
Features
Strong & Durable – UltraSlot F900kN channels have been load tested up to 202,320 lbs, in accordance with international standards. Innovative design features achieve a strong connection to the surrounding concrete and steel reinforcing. Gatic Slotdrain will remain intact for the design life of the project.
Water Tight – Channels comply with international standards regarding 'water-tightness' when installed according to manufacturer's instructions. See Rigid Steel Lining – Gatic Slotdrain could be considered a cast in-place trench drain with a rigid steel lining, that resists lateral forces and provides protection to the channel concrete encasement.
High Capacity – Use of high capacity channels reduces the need for channel runs and catch basins to drain a given area. Larger units can be used for water storage on site (24? wide channel stores 34.43 US gals/ft).
Stepped Fall & Self-Cleansing – A 'stepped fall' channel configuration and v-shaped channel base improves the velocity of water, to achieve a self-cleansing flow, even during periods of low rainfall.
Maximum Intake – The intake capacity of Gatic Slotdrain channels is five times greater than required in typical storm conditions. UltraSlot F900kN channels have a maximum intake of 1.13 US gallons/second/foot (slot width 1.187?).
Continuous Interception (Reduced Wash-Over) – Horizontal slot design ensures continuous interception along the full length of the channel and reduces the 'wash-over (bridging)' effect of surface liquids. This is important for environmentally high-risk spillage areas (gas station forecourts, fuelling areas) and secondary containment.
Fewer Channel Joints (Only 50 per 300 feet) – Gatic Slotdrain has fewer joints and lower frictional losses along a given run of channel, to achieve a smoother flow of water.
Time & Cost Savings (1) – Using larger Slotdrain channels in a 'stepped fall' configuration greatly reduces the number of channel runs, ground excavation, catch basins and underground pipe-work required to drain a large site. See
Time & Cost Savings (2) – UltraSlot F900kN channels 6?–16? wide do NOT require steel reinforcing in the channel concrete encasement for use in heavy-duty applications.
Quick Installation – With innovative design features, and no gratings to fix, channel units can be installed up to four times quicker compared with pre-cast and cast in-place trench drain systems, achieving additional cost savings. Experienced contractors can install between 300 feet–400 feet of Slotdrain in one day.
Easy To Handle – Channel units are lightweight and easy to handle on site.
Impact Resistant – Channels will not break during transport, site storage or installation, avoiding the need to replace units.
High Quality Finish – Practical channel features and precision manufacture (+/– 0.039?) allows for neat jointing and straight channel alignment.
Safe System – A single unit, with simple slot design, ensures safe passage for pedestrians, vehicles and aircraft, avoiding injury and personal claims. See
Tamper Proof – A system with no removable parts is ideal for areas of high security, public use and schools.
Reduced Maintenance Cost – A one-piece unit is less prone to wear and tear, as component parts cannot work loose or be removed. Less pipe-work, with fewer slot drain runs and chambers, reduces the need for maintenance. Access units and catch basins allow for easy cleaning and maintenance. Impact resistant units will not need replacing.
Simple System, Quick Design – Hydraulic Design Software makes channel sizing and specification a simple task. Larger channel units allows for fewer Slotdrain channel runs and less pipe-work, achieving less complex designs.
Precise & Aesthetic – The neat and unobtrusive slot detail compliments modern, contemporary design and accommodates all surfaces.
Design Flexibility – A range of channels and accessories are available to suit most drainage schemes, project types and load requirements.
Quality Assurance, Proven Performance – Complying and tested in accordance with US and international standards (EN: 1433; 2002), the system has proven performance on projects all around the world.

Call 800-277-5015 to place your order for FacadeSlot A15KN 2"-4"!