Manufacturer:
Category:
Commercial Trench Drains
Part Name:
KlassikDrain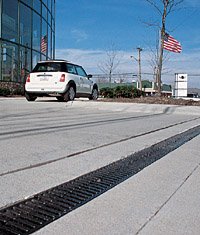 ACO Commercial Trench Drain Options
General purpose trench drain system available in 4" (100 mm) - K100, 8" (200 mm) - K200 and 12" (300 mm) - K300 internal width with either galvanized or stainless steel edge rail. All systems have 130 ft (40 m) continuous slope.
The world's most popular general purpose trench drain system is available with a wide variety of grates in different materials, slot configurations, and load ratings. Grates are secured into the channel by ACO's patented boltless locking device - QuickLok. KlassikDrain's interconnecting polymer concrete channels feature an integrally cast-in galvanized (K100S) or stainless steel wearing edge rail (KS100S), and come in sloped and neutral depths. A full range of accessories completes the system.
Typical applications
Parking lots & garages
Shopping malls
Pedestrian areas
Industrial areas
Commercial areas
Internal applications
General Specifications
The surface drainage system shall be ACO Drain K100S/KS100S* complete with gratings secured with QuickLok locking as manufactured by ACO Polymer Products, Inc. or equal approved.
Materials
The trench system bodies shall be manufactured from polyester polymer concrete with minimum properties as follows: Compressive strength: 14,000 psi, Flexural strength: 4,000 psi, Water absorption 0.07%, Frost proof, Salt proof, Dilute acid and alkali resistant
The nominal clear opening shall be 4.00" (100mm) with overall width of 5.10" (130mm). Pre-cast units shall be manufactured with either an invert slope of 0.6% or with neutral invert and have a wall thickness of at least 0.50" (13mm). Each unit will feature a full radius in the trench bottom and a male to female interconnecting end profile. Units shall have horizontal cast in anchoring features on the outside wall to ensure maximum mechanical bond to the surrounding bedding material and pavement surface. The galvanized/stainless* steel edge rail will be integrally cast in by the manufacturer to ensure maximum homogeneity between polymer concrete body and edge rail. Each edge rail shall be at least 1/8" (3mm) thick.
Grates
Grates should be specified. See seperate ACO Spec Info grate sheets for details. After removal of grates and QuickLok bar there shall be uninterrupted access to the trench to aid maintenance.
Installation
The trench drain system shall be installed in accordance with the manufacturer's installation instructions and recommendations.

ACO KlassikDrain Specs



Features
Wide choice of grates in various materials and sytles (including ADA compliant) for applications from Load Class A to Load Class E (see Loadings)
QuickLok - patented, boltless locking system provides quick fitting and removal of grates. Helps reduce installation / maintenance time and cost (see QuickLok)
Sloped (0.6%) channel units - meter long units provide 98'-5" continuous slope. Neutral units can be used to extend run lengths.
Integrally cast-in galvanized steel edge rail provides additional strength and protects channel body from damage. (Stainless steel edge rail also available - KS100S).
Polymer concrete - a durable, yet lightweight material made from polyester resin binder reinforced by mineral aggregates and fillers. It provides up to four times the compressive strength of cement concrete. (see material properties)
Profiled side walls - strengthening pillars and frost keys provide channel body strength and mechanical keying to surrounding concrete.
Direction arrows on the sides of the channel indicate flow direction and ensure channels are installed correctly.
Bottom drill-outs are included on all channel units to allow vertical evacuation of the system along the run. Schedule 40 drill outs are sized for 4" and 6" pipes. Note: for 6" pipes, an oval to round adaptor is required (Part No. 95140).
Interconnecting end profiles allow easy and effective joining of channels. Appropriate sealant can be used to create a sealed joint.
4" internal width trench system - meter (39.37") and half meter (19.69") channel. 'U' shaped bottom improves flow hydraulics.

Call 800-277-5015 to place your order for KlassikDrain!