Manufacturer:
Category:
Commercial Slot Drains
Part Name:
Z888-36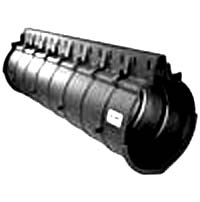 HI-CAP SLOTTED DRAINAGE SYSTEM FOR 36" CORRUGATED PIPE OR EQUIVALENT

USA Configurable

23" wide 1 3/4" Hi-Cap slotted drainage system. Linear low density polyethylene modular drain channel with smooth non-stick, non-corrosive interior and 0% water absorption. 80" modular sections with integral frame, mechanically interlocking joints and smooth radiused interior. Integral tie-down/leveling devices at 20" intervals and load distribution rebar stances for application of continuous lengths of rebar for structural integrity.

Typical Applications
Highways
Airports
Pools
Ports
Wineries
Parking Lots
Gas Stations
Industrial Parks
Airplane Hangars
PDF Specs
Features
80" Modular Sections – Allows quick and easy assembly, straighter installation.
"V" Shaped Bottom – Better flow rate, less solids build-up.
Smooth Polyethylene Interior – 0% water absorption and superior chemical resistance.
Chemical Resistance – Strong corrosion-resistant material.
Positive Mechanical Joint Connection – Keeps trench system straight, rigid, and liquid tight.
Tie Down Leveling Device Every 20" – Positive anchoring to place and set installation to the desired elevation.
Load Distribution – Rebar stances ensure that installation becomes a solid structure in concrete and able to withstand high traffic loads.
Integral Protective "Zip Strip" – Keeps body clean of debris and materials during installation.
Extra-Heavy-Duty Frame – Optional extra-heavy-duty top frame or heavy-duty ductile iron frame complete with anchor studs for additional protection when needed.

Call 800-277-5015 to place your order for Z888-36!